Letter No. 5 - A Presidential Faith Declaration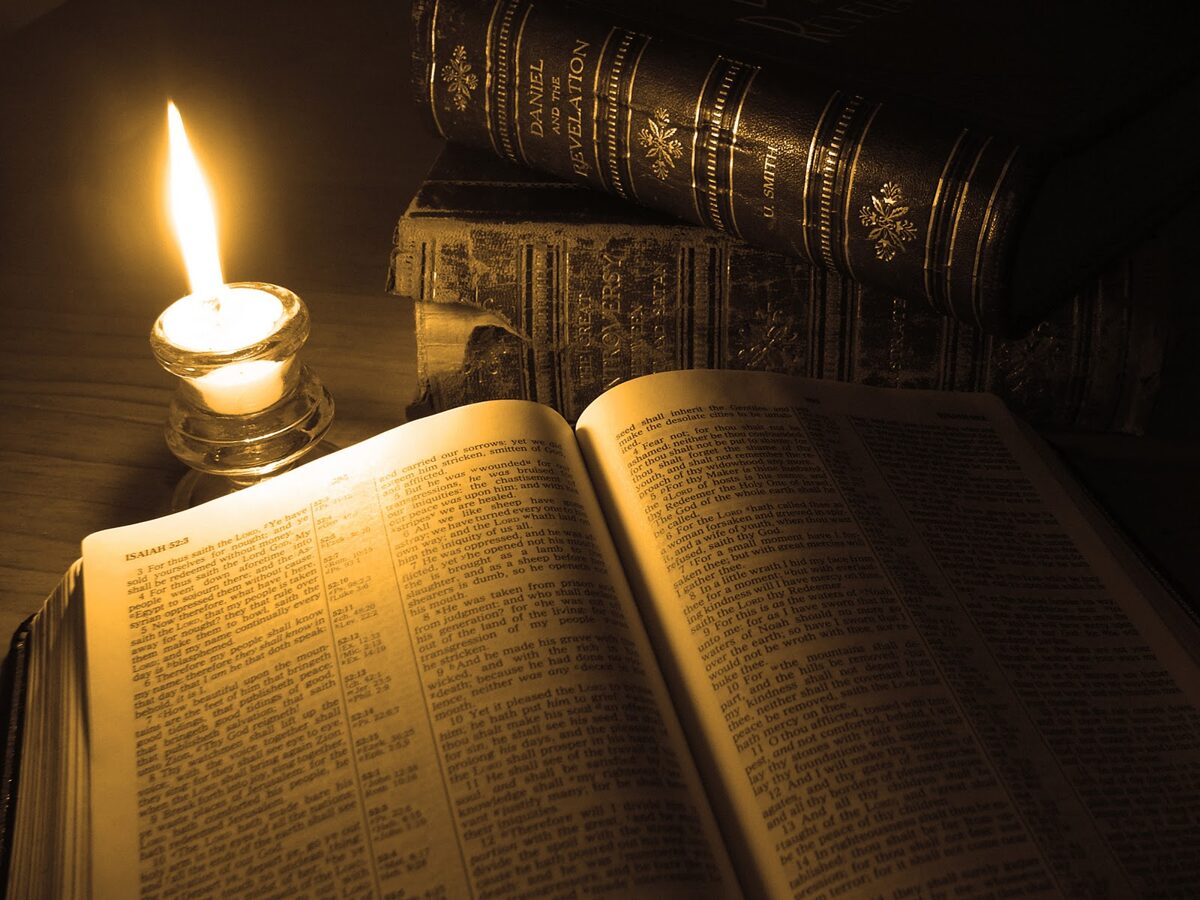 Letter No. 5
A PRESIDENTIAL FAITH DECLARATION
January 20th, 2024.
Opening the Bible by candlelight in the cabin, then writing this:

"I am not a religious crusader running for political office. However, I view the United States Presidency as a profoundly spiritual office, as did Presidents Dwight Eisenhower, Abraham Lincoln and Ronald Reagan, all of whom were great moral leaders. I am avowedly a man of personal faith, which touches every aspect of my life. I do not foresee the cataclysmic end of the world, in fact the opposite. I do not judge anyone as saved or condemned. I utterly reject theocracy as a form of government, and am a fierce defender of the separation of church and state, provided that bedrock precept is not re-tailored to means something it does not. I abide by the Lord's timeless words, which state, 'Render therefore unto Caesar the things which are Caesar's; and unto God the things that are God's.'"
To place some scaffolding upon my Presidential Faith Declaration, I am quick to add that I bring very real, concrete policies for the United States. I offer a realistic, brick-and-mortar builder approach to problems.
America presently needs a President whose not-too-lofty visions can actually take root; one who is well-studied and wields an actual battle plan, in concrete terms. Mine include the following early samplings:
PATRIOTISM RESTORED: The rebuilding of national monuments x3 for each destroyed or damaged by the civil unrest of 2020/21. This will include a new Washington Monument hailing our first President, George Washington, and giving distinction to all American accomplishment, regardless of race or nationhood, as the great melting pot nation under Almighty God.
ULTRA PRIVACY PROTECTION: The strictest set of citizen privacy guarantees the world has ever known. This is to derail globalist intentions to narrow American liberties and dominate our purchasing freedom and free way of life – including using biometrics, micro-chipping, data collection, forms of artificial intelligence - and mandated vaccines - to create a ruling elite against our free American liberties, purchasing power, and free association.
TAX REFORM: The repeal of federal capital gains tax and the instituting of a flat tax on all federal tax returns - business and individual. This will send the American economy into the stratosphere.
PROTECT AMERICAN JOBS: Incentives and stringent tariffs, if need be, to protect our farmers, food producers and American manufacturing companies. All roads will point to a 100% energy independent America in complete control of its own destiny while respecting the earth we have dominion over.
FAIR ELECTIONS: Ironclad federal legislation for citizenship ID to ensure fair and lawful elections with rigorous checks at the local level supporting lawfulness, bringing the franchise to all eligible voters while preventing shoestring-style, fraud-laden elections, whose susceptibility to compromise are too many to be counted or even imagined without the above.
BANKING FOR AMERICANS: Broad-based banking and finance reform serving privacy, liberty, small business, the family farm, thriving entrepreneurship, and the American dollar – backed by gold reserves, and silver, copper and other precious metals valued for their use in Renaissance R&D and acquired through space exploration, if need be.
INFRASTRUCTURE DYNAMO: Infrastructure innovation and global preeminence in this surge to modernity, including our electric grid, airports, highways, bridges, tunnels, waterways, and telecom, with scalable user-fees to recoup the immense costs to the treasury, in addition to private sector-competitive bidding to keep costs at a minimum. This program must not add to our long-term Federal Debt, as there must be no penalty for progress (see "Fund Backets" in a future letter).
SPACE FORCE AND EXPLORATION: For peace and prosperity, notably the reckoning with advanced algorithms and divine codices embedded in God's Master Creation. Many of the keys to peace, prosperity and the eradicating of disease on earth lie in deep space, aka the heavens. We will find them.
EDUCATION FOR AMERICAN PROGRESS: Local autonomy and a hands-off federal approach, including charter schools, buttressed through direct and Renaissance-style American classrooms online, including vocational training, with the ceasing of all federal funds to ideologically bent institutions, except for verifiably value-based and humanitarian work funded by grants and reviewable by Congress. Public schools are a matter of absolute local autonomy guided by patriotism and loving parents, not teachers' unions or interests outside the family unit and our local communities.
*****
My comprehensive vision, adumbrated in "Emblem America," covers much of the above in a lively way.
While all of life is a test of one's Faith, every thousand years all civilization is put the test. This is a necessary purging and a rugged threshold that defines a new set of parameters and establishes the spiritual muscles needed to survive in new and changing times. We, as a nation, must never fear this transition. However, the exposure of invisible lies is an equally necessary part of this passage. Yet, the stark realization of truth and the burden of self-convicting confrontations is not what recent culture has taught us over the last 70 years. In fact, the exact opposite is true.

I share a common thread with John F. Kennedy, here, our 35th U.S. President, in that we both have, or may be having, the religious baggage set upon our shoulders, but done so by mostly unschooled students of history, or those willingly blind to it. JFK as a Roman Catholic, and worse yet for me, as a Christian with a dramatic bent for candor and a potential platform far-reaching in size. In Kennedy's case, the media and intellectual elite, save his counsel Theodore Sorenson and scant others, refused to apply the "still waters" of the U.S. Constitution with fairness (Article 2), and in my case, they occasionally refuse to admit they're simply wrong about the proper place of Faith in American life. Like Kennedy, I stand for religious liberty and am not a religious crusader carrying water for any organized faith group. Ladies and gentlemen, without religious liberty, the other so-called "protected groups" are merely subjective tokens of a people modeling their compassions around cultural pressures. This tendency is absolutely deadly for civilization.

Enough said: Let's broaden the picture.
Over the course of the last 2,000 years – and clearly throughout the Modern Era launched circa 1500 AD – the seedlings of Western Civilization's stalwart faith was seamlessly woven into everyday life, with rare exceptions. Prayer was a central part of this, and it was performed openly and in public. We prayed at meals, in school and at public gatherings. Even when religious factions, such as the early Protectants, bristled against one another, their love of the revered, kitchen table "Bible" grew and grew, and it united them. In good times, they celebrated it. In hard times, they sought it. The availability of the type-set King James Bible, and an open blazoning of it, outlived and defeated the most oppressive instincts of fallen humanity, including Marxism, Nazism and Communism, all dark atrocities of the 20th Century world.

Yet, since the watershed 1960s, there has been a fierce march toward making this centerpiece of faith, an abnormality or even an offense. Suddenly, this relatively microscopic slice of time – a mere 60 years – is trying to jettison 2,000 years of history with no appeal to critical faculty, open debate or even civil discourse. The assault begins with an erosion of principles and proceeds through peer pressure, then overtakes us with shameless media inculcation. The only way to rectify this is an open classroom on the true facts of history, and then a lively discussion. This can truly happen, and the rule of civility and courtesy should be carefully enjoined. Those who exercise these prerogatives have the confidence born of wisdom.

I strive to make us a nation, once again, of inherited Elegance. This may be the greatest gift of our forefathers. This is more than a romantic allusion, but a re-flowering of our love of virtue, demonstrable in every aspect of free society, including government, and a fierce love of truth.
Finally, as President, I will never enumerate the sins of our nation or point fingers at any person or group. My job is an inherently secular one; however, I'm also a leader in amazing times. If you ask me question, I will answer truthfully. As an avowed believer in the work and promises of our Lord Jesus Christ, I will tell you point-blank that the sexual revolution, leading to the breakdown of the traditional family, and bizarre occultism in its many forms (media, books and mainstreaming), at the expense of our Judeo-Christian heritage and destiny, is a study in human folly and absolute ignorance. Harsh words or a shimmering wake-up call?

You will decide on election day, November 4, 2024.

Oliver Cromwell is often on my lips: not for his infamous acts on the battlefield or his political expediencies, some of which were shocking by today's measure, but because as Lord Protector of England he was the right man at the right time in history. I find it so interesting that the zeal of the "left" is never fully cross-examined, but those who stake their passions upon the God of the Bible are instantly villainized. Lord Cromwell, much like Lincoln and Churchill, survived the mass fear and hysteria of their times, to ride upon a proverbial white horse, wrapped in their Faith in God, then taken into battle, fighting for the survival of their very countrymen and women, knowing that the vested goodness of something eternal was being ruthlessly attacked - both with lies or javelins and cannon shots.

Faith is not simply wishful thinking, and it will be the cream that shall rise to the top of this Presidential administration. As the dark horse candidate, without a famous name, without a campaign war chest, and without a political resume, I will act as an exemplar of these words. Win or lose, my next step up, A Revival Mountain, breathes that Faith that keeps me living and believing.
I hope you will join me on that quest.

We will never have this "sparkling" chance again.

Copyright 2023 - Michael An'gileo
No comments
Leave a reply