Letter No. 11 - Quest U.S.A.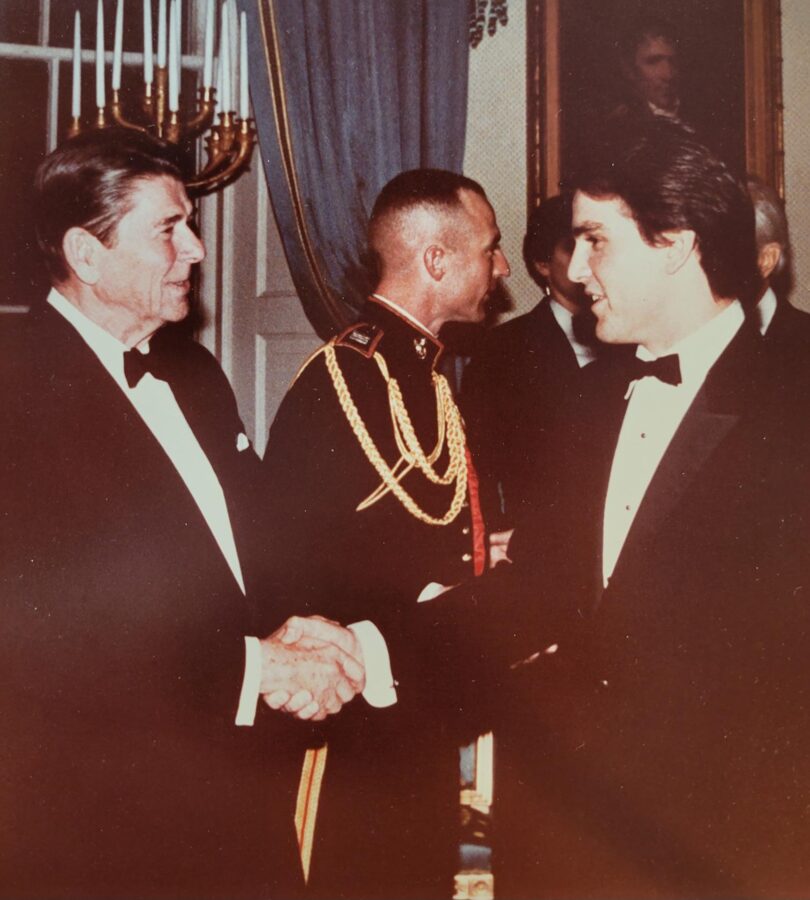 Letter No. 11

A PUBLIC SERVICE MISSION
Aka
"QUEST USA"
January 30th, 2024. (Flashback)
Sharing a moment with President Ronald Reagan at the White House.
"The Quest" will offer a public service role for every citizen of the United States past their 18th birthday while benefitting our national economy, through education and extended social services, and not placing a burden on taxpayers.
In the case of those under 26, their time contributions toward assisting the elderly, teaching English to new immigrants, or social service can defray the cost of college.
Those past the age of 26 can serve in mentoring roles, sharing a professional or vocational skillset online, or can act in the same capacity as the younger volunteers with fewer hours, allowing for family responsibilities and childcare.
Market-based rewards and incentives for their management and execution will be included in enterprise-style "fund baskets" described earlier whereby companies and individuals can enhance their funding and receive a tax credit against regular income on the flat tax.
I foresee a day in the 21st Century in which standing armies will gradually decrease and our responsible use of technology, gifted by new wisdom and bright algorithms learned from space exploration, will allow a public service role to emerge, not to the detriment of the armed forces, which must be kept pre-eminent in the world, including an immensely powerful deterrent force (Navy and Air Force) but as a complement to our social fabric. Our young people must have a vested interested in America, and they need to be kept busy in a meaningful, profound and wholesome way. Our government must take the lead in creating this public service mission as a model to the world. I love the idea of our young people defraying the cost of college through their service, earning points for time served, innovation and results in the field. There will also be an international component with emphasis upon clean water and the delivery of healthcare to developing nations. Adult participants in "The Quest" will enter the program and, provided the results are satisfactory, can re-up, and will be compensated for their time, not by the government, rather by a marketplace metric where municipal and state governments will bid on their talents to improve their communities, with the Federal government guaranteeing a base-hourly wage for their time. These participants will be qualified simply by offering a service that others need, provided it is lawful and exponential in its ability to be passed along and improve quality of life and entrepreneurism in those whose life they touch. This is a highly prudent investment in America and its time has come.
THE 2ND AMENDMENT

Thomas Jefferson and James Madison were considered vanguard "liberals" in their time, children of the Enlightenment and seared by the Revolutionary War with England. They stood firm for the right of all Americans to bear arms, making it our 2nd Amendment.
It's no accident that this cherished right is second only to freedom of speech. The right to bear arms is a fundamental right of our free Republic.
Let no one convince you otherwise. A government that disarms its people is up to no good. Countries who have embarked upon this course have seen a rampant escalation in violent crime as the criminals respect no laws.
With the ironclad enforcement of laws against improper gun use - outside of hunting, sport and self-defense - every law-abiding adult citizen of the United States, provided they do not have a criminal record or mental illness, is accorded this right. It cannot be abridged.
I will protect it fearlessly as your President.
No American can fathom the idea of being awoken in the middle of the night by a predator without the immediate ability to protect themselves and their beloved family. Safety standards, education, lock boxes for ammunition and common sense are part of the American tradition dating back to the frontier days. Fearmongering and the stripping us of a renumerated right, 2nd of the Bill of Rights, is not. Our friends who support abortion point to the privacy "penumbras" of the same Bill of Rights, yet try to surgically remove the 2nd Amendment lock, stock and barrel. You can't have it both ways. Gun ownerships rights and the fight against crime cannot be a mixing of metaphors. Automobiles, knives, garage tools and countless other inanimate objects can be weaponized. Should we make them all illegal? Of course, not. We have the oldest living and breathing written Constitution in the world, we are a Common Law nation with elected lawmakers who can, and have, helped enact laws against violent crime with weapons where life or property are threatened. This is the answer. Speak to law enforcement officers, they all say the same: "Let us enforce the laws against crime on the books. We simply cannot protect everyone." Indeed, responsible gun owners, many of whom have served in our armed forces or perform civilian duties like Neighborhood Watch are American's salt of the earth. Do the research. Read the statistics. States with responsible gun owners have the lowest crime rates. As President I will continue to support the National Rifle Association, gun safety education and safety courses and will appoint Federal judges who will faithfully uphold the constructionist sanctity of our cherished 2nd Amendment right.
Copyright 2023 - Michael An'gileo
No comments
Leave a reply